Yesterday's issue (April 20, 2012) of The Citizen paper had an interesting article about some possible future filming locations for season three of The Walking Dead.  The article doesn't mention anything about dates when these locations will be used but as we get closer to filming, and continuing through the season as filming is ongoing, and we hear more we'll be sure to pass information along.
I'd like to thank one of our followers, Larry McDonald (@l_e_mcdonald) for scanning this article and sending it to us.  I've also transcribed the article below the image for anyone who may have difficulty reading it.
If you live in Senoia or the surrounding areas, keep an eye on these sites and let us know if you see any activity indicating staging for filming is beginning.
(Click image to enlarge)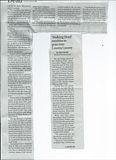 (Text of above article)
'Walking Dead' zombies to pour into Coweta County

By BEN NELMS

The upcoming season of the "Walking Dead" television show begins filming near the end of May and will feature an expanded presence in Coweta County this year.  Coweta County commissioners got the word April 17 when Stalwart Films location manger Mike Riley gave a preview of locations around the county where filming would occur.

Noting that the schedule is not set and that he would have more specific information at the May 3 meeting, Riley said portions of the popular show will be filmed on Turkey Creek Road near the fire department, at Sportsman's Deer Cooler in Haralson and at a house in Turin where the production is requesting to close Reese Road between McIntosh Trail and Odom Road.

Riley said that, once shooting at these locations and in Senoia begins, the production will require nine days of filming per episode.  Shooting will occur Mondays through Fridays and will continue through November, Riley added.

"We appreciate the opportunity to work with you," Riley told commissioners.

Asked by Commissioner Al Smith why Coweta was a fit for the show, Riley noted several reasons.

"The storyline runs from a rural area to an urban area and back to a rural area," Riley said, adding the benefit of having Raleigh Studios in Senoia.  "We were here last year and much of the show was shot in this area"

Riley earlier in April announced at a meeting of the Senoia City Council that they city is about to go to the next level for the show's thirds season when Senoia will become the main set and a sanctuary for the zombie apocalypse.

"Senoia will be a major set for next season," Riley said, adding that Senoia's Raleigh Studios will serve as the production's other principal set while other locations in the area will play a more minor role in the production.  "This (third season) is long term.  We'll be here until November."

Speaking only in general terms about he upcoming season, Riley said the scenario involves the city serving as a sanctuary in the midst of a zombie apocalypse.

"The town is walled off," Riley said of the storyline.  "Inside the wall is a the safe zone and a benevolent dictator runs the town."

Noting some of the specifics meant to create the desired effects of the show, Riley said the crew will construct a temporary, movable wall meant to look like a gate stacked with items such as old tires and doors that can be used along the area of Main Street and Travis Street.

Though filming is expected to occur in  a number of areas around the city, Riley said the area of Main Street from Seavy Street to Travis Street will serve as the main set.  The set might extend from Seavy to Johnson Stree, Riley added.  He said the production calls for store fronts to be left as they are to lend to the impression that the city is a safe zone.

Production is set to begin on May 31, Riley said, noting that the set location could become one that is recurring during another season if the success of the show continues.

The first episode is scheduled to begin shooting on May 31 and will continue Monday-Friday for eight days and might include some night shooting, Riley said.

Riley told council members that what the production would need is to be able to control traffic in the set area and to arrange for alternative parking for businesses and to keep them accessible to customers and for deliveries.

Riley said he had spoken with most of the merchants in the set area to explain what the production would like to accomplish.

"The feedback so far is positive.  The city's day-to-day business traffic has to be accommodated, " Riley said.  "I think we had an economic impact last season and I think there will be a positive impact with us being here longer this year."