We received this filming notification from Senoia resident James Blackwood who found the notice in his driveway last week.  It details filming location information for November 7th and November 9th.
(Click image to enlarge)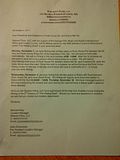 James was also gracious enough to send us this quick photo he took while passing the location this morning. We can't tell a lot from this photo other than they seem to be using Otis' truck in the scene.
(Click image to enlarge)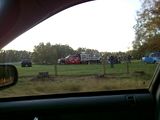 Again, thanks James for the information and photos!