Seems there was quite a bit going on in Senoia, GA during filming for season three of AMC's The Walking Dead at the end of last week.  We've received more pictures from this filming than from any other to date.  I'd like to thank everyone who sent in pictures.  I also enjoyed the stories from those who were lucky enough to meet cast and/or crew members, received autographs, and had their pictures taken.  I was unsure how the production team would pull off converting Main Street Senoia into the scene of the zombie apocalypse while still doing everything in their power to not disrupt normal town operations more than they absolutely had to.  From the pictures below I believe they did a masterful job, as usual, and filming as well as normal business in town seemed to mesh as well as could be expected.
Warning – I've looked through these pictures and aside from the state of the town I don't believe there are any major spoilers here with the exception of one picture update.  I'm going to put that photo set last with another warning so those who wish to avoid it can do so.
Here's a slideshow of the images but click the jump below for individual photos. Thank you again to everyone who sent in set and filming photos!
The photos here show the state of the town, the vehicles within it, as well as myriad other things. Some are set shots, some were taken before and during filming, and some show the back sides of the businesses, most of which stayed open during filming. There is also a mix of photos from day and night filming.
Thank you to Justin (@s1ngxthexs0rr0w), @crossbowkt), Jessica (@jessicarscott81), Sarah (@Sarahsbrides), Matt (@mforshee), Greg (@gheinisch) Brad (@BradleyNixon) and Kim (@kimberlyann7903) for all of their set photo and filming updates via Twitter.
(Click any image to enlarge)
From Richard and Haley R.
From Greg H.
From Arlyn M.
From Robbie R.
From Christal T.
From Tim R.
From Kenon F.
From Katie T.
From Devon M.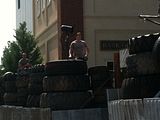 Night photo of the gate sent anonymously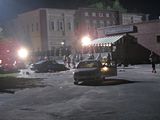 And here is the photo set which contains a spoiler. If you do not want to know anything about possible cast for season three, then this is your chance to stop. Enlarge the images below at your own risk.
From Maddie M.