During the second episode, "Guts", we see Rick and Glenn don some zombie innards in order to blend in with the zombie horde so they can reach the work zone and the box truck.
(Click images to enlarge)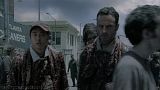 As some may be able to tell already, this is the exact same road where Rick and Glenn perform their loading dock rescue moments later. There's even a work zone at the far end of that street where Rick and Glenn found the box truck.
(Click images to enlarge)