After Rick hears from Glenn in "Guts", he exits the tank and makes quick run down the street and into an alley where he meets Glenn for the first time. Once they head down the alley, they climb the nearby ladder to get above the zombies chasing them.
(click images to enlarge)
Surprising little was done here to make this scene work for the show.  A little CGI (I'll show where in a minute) and the separating of an existing fence was all they needed.
(click images to enlarge)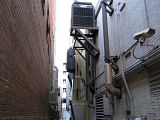 Now here's where the CGI comes in.  Remember that ladder Rick and Glenn used to climb to the top of the building?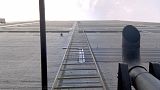 That ladder doesn't exist.  It was added in later.