Near the end of the first episode, and after running out of gas, Rick finds a horse and rides it into Atlanta.
(click image to enlarge)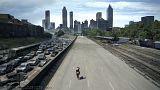 This is also the same road shown when Glenn was leaving Atlanta in the Dodge Challenger at the end of the second episode.
This view of Atlanta is from Freedom Parkway with a beautiful view of the Atlanta skyline. In this comparison shot (from the Jackson Street overpass, visible in the second screen capture above) you can see just how much CGI was done to not only make the road look longer than it really is, but also to add in evidence of the zombie apocalypse along both sides of the road.  There is no train line which runs down that side of the road but I have to admit its addition really adds to the scene.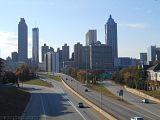 This intersection, or view, is on the eastern side of the city.