On horseback, Rick comes into Atlanta over a rail yard bridge.
(click images to enlarge)
As with many of the scenes shot in this part of downtown Atlanta, very little was required by the production team to make these locations show-ready.  The building seen in these shots is actually owned by Norfolk Southern though it's no longer in use.  At one time this building had large HOLLYWOOD-style lettering across the top notifying train passengers of where they were, though the letters have since been removed.
This building was constructed in 1912, is 7 stories tall, houses nearly 175,000 square feet, and stretches nearly 2 city blocks.  The bridge we see Rick crossing is closed to all but foot traffic and you can see in the comparison shots how much fencing was removed to get this shot for the show. Rumor is this building is slated for demolition, though I was unable to find a verifiable source for this.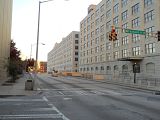 The rail yard under the bridge is still in use today and was the setting for later shots.  Screen captures and comparison shots of the rail yard here.
More information about this building can be found here and here.  The Norfolk Southern building is located on Spring St. near downtown Atlanta.