In the pilot episode, "Days Gone Bye", we're introduced to Shane and Rick as they're sitting in their Sheriff's squad car having some lunch and a conversation. Lunch is abruptly cut short by an assistance call and they immediately drive off.
(Click images to enlarge)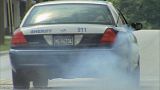 This scene was filmed in the small town of Mansfield, GA which is about 60 or so miles from the downtown Atlanta, GA scenes. The crew positioned the Sheriff's car in a small town square right next to the main road running through town. It looks like the trash can was just a prop as it's no longer there, and the sign in the location shots below was removed leaving only the wooden pole behind the trashcan.
(Click images to enlarge)