I have a bit of a variety of photos to share this time around from various filming locations for AMC's The Walking Dead.  We have pics of Woodbury (Senoia), some zombies, more aerial photos, and Norman Reedus.  I know that last one is going to have some fans wanting to jump ahead so let's not waste any time.
First up are some photos courtesy Dorie Smith (@bamagirl3248).  She was able to get to the Haralson, GA filming location back on October 12th and recently sent us these photos of herself with Norman Reedus (Daryl Dixon, @wwwbigbaldhead).  Thank you Dorie for the photos!
(Click images to enlarge)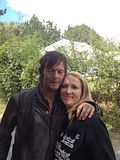 Next up are some photos courtesy Cassandra Lee (@cassandralee182).  She traveled to Georgia this past week and was also able to get to Haralson, GA during the most recent filming there to get some photos.  She also went by Senoia, GA (Woodbury) to take some photos.  Thank you Cassandra and I'm glad your trip to Georgia, and the filming locations, was an enjoyable one!
And Cassandra's comparison shot of a scene we saw early in the first episode of the series where Rick enters Atlanta on horseback.  Her photo is better than mine because she was able to take it from a car whereas I was standing on a bridge at a bit of an angle.  This photo really shows how much CGI work was done on the areas surrounding the highway.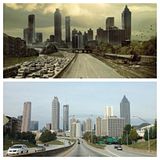 Next up is a photo courtesy of Brandon (@Dr_Endless) and Stephann (@SteepCrown) who were able to make it to Haralson, GA to watch filming and get a photo with Norman Reedus.  Thank you for sharing your picture!
Next up are a few more aerial photos of the Hershel's farmhouse location from season two.  These pictures were shared by Al Ciolkosz via our Facebook page.  Thank you Al for sharing these photos.
Last, but certainly not least, we had fellow fan Guy Pearson send us these photos from the most recent filming in Haralson, GA.  These are some of the few photos we've had which show zombies on the streets and they're always fun to see.  I don't think they give away any plot details so I'll leave them in the set.  If you don't know there are zombies on the show, I question which show you've been watching.  :)
Thank you Guy for sending us these photos and letting us share them.