In the season four episode "Live Bait" (S04E06), we see a flashback of the time the Governor spent after he killed some of the Woodbury residents. During this time he finds his way into a small town where he absentmindedly sidesteps a walker which was coming for him, and then collapses in the street. As he's getting back up he notices a small girl watching him from the window of a building in front of him and finds his way inside.
(Click images to enlarge)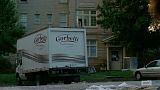 (Note: The above images are property of AMC Studios and are posted here for comparison purposes only.)
These scenes were filmed near downtown Griffin, GA along Meriwether St. The food truck was parked in front of the building's sign which is visible in the photos below. I don't know, however, whether the interior scenes were filmed inside this building or at a different location. If anyone knows, feel free to leave a comment below and I can correct it here.
The locations are plotted on the Walking Dead Locations Google Map as well.