After waking from his coma and leaving the hospital, Rick finds a bicycle and manages to make his way home. Once home he finds that his family is gone, the house is deserted, and leaves Rick in despair. As he sits on the front steps he sees someone walking down the street but is knocked out before he can realize it's a zombie.
(click images to enlarge)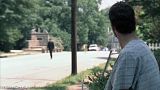 The house which serves as Rick's in the show is actually located near Atlanta's Grant Park.  Grant Park is Atlanta's oldest city park and in addition to being a city park, it is also home to Zoo Atlanta and Atlanta Cyclorama.  Together with the surrounding neighborhood, also known as Grant Park, this area of Atlanta is the city's largest historic district.
As you can tell from the images below, this house is currently unoccupied and for sale.  This surely made the production team's job easier in making it look abandoned for the show.
(click images to enlarge)