I received a message this afternoon that there were signs located in Haralson, GA stating that filming would be taking place and to "expect delays" between 8:30AM and 7PM, Oct 8th – Oct 12th. At the time I was unable to verify whether this was for The Walking Dead. Then I received the following photograph of a local holding area, near the signs mentioned early, and discovered that this filming next week must indeed be for The Walking Dead.
(Click image to enlarge)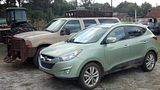 Anyone in the Haralson, GA area that plans on attending, we'd love to see any photos you get of the area. Please email them to Pix@WalkingDeadLocations.com.
Thank you to @danibrat and @Southside_GA for the information!