I have several locations from episode five of season three of AMC's The Walking Dead, titled "Say The Word", to cover in this post so let's just jump right in.  I think by now everyone knows about the prison and Woodbury and where those scenes are filmed.  There are also more and more pictures coming out of Woodbury (Senoia) this week as filming is taking place there all week.  If you don't already, follow us on Twitter as I pass along any photos there which are shared.  There are many fans in the area this week watching filming and hopefully we'll be passing along more photos soon.  The prison set is still inaccessible as it's on the studio lot but if anyone talks to Glen Mazzara or Gale Anne Hurd, put in a good word for us and hopefully we can get some closeup shots.
Now, on to the other locations from this episode.
After Michonne dispatched their pet zombies at the arena, the Governor sends Merle and Franken-Milton to a large field where they had a trap set up to capture more zombies.
(Click images to enlarge)
This field is located across the street and north of the house we saw Rick and the other survivors inhabit for a brief time in the season three premiere.   Thanks to fellow fan Robert S, we have pictures of this location from back in early July.  At the time we had no idea if this was even really for The Walking Dead as we couldn't figure out what this would possibly be used for.  Because of that I didn't post the photos at the time but now that we know what it is, here are Robert's pictures from that field in Turin, GA.
I'll have this location (as well as all others from this post) pinpointed on our Google Maps within the next day or so, although I drove by the field about a month ago and from what I could tell, everything has been returned to pre-filming conditions.
Next we saw Daryl and Maggie on a supply run for Lori's baby.  They come across what appears to be an old day care and Daryl is even able to nab some lunch while in the house.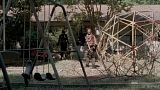 This location is actually a disused day care.  It's on property owned by Sonrise Baptist Church in Newnan, GA.  Thanks to Daniel (@dlewis_101) we have a couple of photos from this location as they were filming back in late June.  Daniel's photos below also show just how much production it takes to facilitate a shoot even as apparently small as this one was.
Some portions of Daniel's email message describing the location and just how close he was allowed to get to the filming:
It is an abandoned daycare that belongs to the church.  The location/set crew really did an amazing job transforming it into its post zombie apocalypse state.  There were several cars with weeds growing over them, limbs down everywhere and just a general state of disarray.  I didn't see any walkers but I did see Norman and Lauren (Maggie).

They were filming outside first and they were kind enough to let us watch the scene being filmed.  And they actually let is get very close, so close that we could hear the actors speaking!  The first scene was Daryl riding in on his bike with Maggie on back.  Nothing spectacular but still cool nonetheless.   The second scene involved Daryl […] and Maggie entering the daycare by breaking out a window and crawling in. The rest of the scenes we're being filmed inside so we left after that.

You can see Daryl's bike, the weed infested vehicles, and the daycare itself. If you look closely, you can see Maggie(wearing the backpack) standing in front of the window, just to the left of the light.  Daryl is harder to see, but he is standing to the left of Maggie underneath the small tree.
Prior to Michonne leaving Woodbury, she has a confrontation with the Governor where she holds her sword to his neck.  Personally I think she should have saved herself some future trouble right then and there, but then we wouldn't have such an interesting show.  Regardless, here's an outside shot of the building in Senoia, GA where that interior scene was filmed.  Thank you to Dani (@danibrat) for sending me this photo.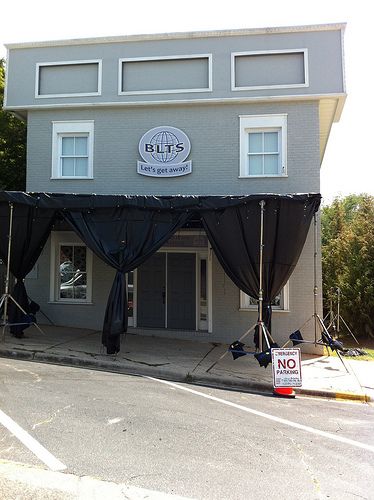 Finally we have the arena.  We first experience the arena with Michonne after she retrieves her sword and enters it after exiting the Governor's office.  We later see the arena as the Governor accompanies Andrea there to witness the fighting between Merle and Caesar while surrounded by chained zombies.
This location is also in Newnan and is known as the Caldwell Tanks location.  I'm unsure if this area is still used by Caldwell Tanks but that's how it was referred to leading up to shooting and since.  Almost every fan who went to watch shooting at this location said that very little needed to be done to transform this area.  They simply added zombies and a few set pieces.  Everything else is exactly as it normally looks and more than one person who sent pictures in said looked inherently creepy.
Here's a shot of the Governor and Andrea leaving sent in by Ben (more of Ben's pics at the links below).  This was taken from a public sidewalk near the site.
Rather than re-posting all of the pictures I received from filming at this location, I'll link to them below.  I'd really like to send a huge Thank You to all of the fans who went to the Caldwell Tanks location to take pictures back in June and July.  Many of these night photos you'll see were taken during all hours of the night with some fans staying on site until near daybreak as this shoot took place all night long.  Click the links below for more photos of this location both during daylight and night.